Adult Stem Cells Produce Major Improvements In Patients With Drug Resistant SLE
Systemic Lupus Erythematosus (SLE) is a serious, potentially fatal, auto-immune disease which produces fatigue, blood disorders, frequent headaches, memory impairment, psychological issues, severe joint inflammation and swelling, chest pain and damage to internal organs such as the kidneys.
Standard Treatments Have Serious Side Effects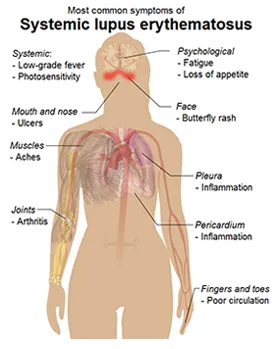 The standard treatments for lupus include the anti-malarial drug hydroxychloroquine, which with high dosages or prolonged use can cause irreversible damage to the retina of the eye. Corticosteroids such as prednisone are also used. These cause weight gain,depression, mania, anxiety, and other mental problems such as psychosis, cataracts and osteonecrosis (bone death).
According to the National Institute of Arthritis and Musculoskeletal and Skin Diseases:
When osteonecrosis first begins, you may not have any symptoms. You may start to feel pain when you put weight on a joint with osteonecrosis. As the disease gets worse, you may have more pain and the joint may hurt even when you rest. Pain may be mild or severe.
If the bone and joint start to break down, you may have severe pain and not be able to use the joint. For instance, if you have osteonecrosis in the hip, you may not be able to walk. The time from the start of symptoms to losing use of the joint can range from months to more than a year.
Over time, as the bone and joint disintegrate, total joint replacement may be required.
The other toxic drugs used to treat SLE are immunosuppressants. Common side effects of immunosuppressive drugs include: immunodeficiency, increased susceptibility to infections, increased vulnerability to cancer, hypertension, peptic ulcer, moon face, liver and kidney injury and other damaging conditions.
Your Own Stem Cells May Heal Or Improve SLE
In 2006, the prestigious Journal of the American Medical Association published a revealing study in which doctors treated critically ill drug resistant SLE patients using their own adult blood derived stem cells.
Unlike other studies in which researchers first eradicated the patients' immune systems, which is risky, the doctors in this study left the immune system of each SLE patient intact. The study found that after five years, 50% of the patients were improved , and had, "either stabilization or reversal of organ dysfunction." "Nonmyeloablative hematopoietic stem cell transplantation for systemic lupus erythematosus." JAMA. 2006 Feb 1;295(5):527-35
In 2013, the scientific journal, Cell Transplantation, published a similar long term study of 87 persistently ill SLE patients who were resistant to standard treatment or who had "life threatening visceral involvement." Allogenic or UCB derived mesenchymal stem cells were harvested and infused intravenously.
Complete clinical remission rate was 28% at 1 year (23/83), 31% at 2 years (12/39), 42% at 3 years (5/12), and 50% at 4 years (3/6).
-Allogeneic mesenchymal stem cell transplantation in severe and refractory systemic lupus erythematosus: 4 years of experience. Cell Transplant. 2013;22(12):2267-77.
Positive Results
Fifty percent remission at four and five years with two different studies shows very promising results--especially since these were very sick patients for whom nothing was working.
At Regen Center we use adult stem cells derived from a patient's own bone marrow and adipose tissue. Adipose stem cells have a particularly high concentration of mesenchymal stem cells. The procedures are painless as they are performed under IV anesthesia by highly qualified physicians in a regular hospital.
To see how a family member or someone you know might qualify to receive an infusion of their own stem cells, simply complete the free phone consultation request form at the bottom of the page and one of our team member's will contact you shortly. You may also contact us by clicking here .