Adult Stem Cells can be Powerful in Healing the Injured Brain
Bone marrow stromal cells selectively target damaged tissue, promote neurological functional recovery and remodel brain architecture.
- S troke Recovery with Cellular Therapies, (Humana Press, New Jersey, 2008) Edited by Sean I. Savitz, MD, Daniel M. Rosenbaum, MD
Adult stem cells can be very useful in improving the overall condition of children and adults with brain damage. The extent of improvement depends on the pre-existing degree of damage. If the damage is light to moderate, there is greater opportunity for recovery of mental and physical functions. If the damage is very extensive and there are profound mental and physical disabilities, an infusion of the person's own stem cells still may prove helpful, but recovery of functions may not be as great as when the damage is more limited.
In severe cases, it is important to discuss the potential role of stem cells with our medical specialists. They will discuss what role autologous stem cells and our holistic protocol might have in you or your loved one's case.
Generally speaking, if a brain injured child or adult has shown some positive response to hyperbaric oxygen therapy (HBOT), this is a positive indicator that an infusion of autologous stem cells may be of benefit also.
In the following case study, doctors used adipose stem cells derived from the patient's own fat. At Regen Center, our expert plastic surgeon gently extracts the adipose stem cells via a painless mini-liposuction while the patient is asleep under intravenous anesthesia. As you can see, the adipose stem cells went directly to the damaged area of the brain. Whenever possible, we try to use both adipose and bone marrow stem cells to achieve maximum healing impact. In cases where the child or adult has no fat available, we use only bone marrow stem cells. Autologous bone marrow is safe and can also provide healing and regeneration to damaged areas of the brain.
Below is an Indium scan of a 9-year-old male diagnosed with Cerebral Palsy. The patient's own stem cells were harvested and activated. They were then tagged with Indium and returned the same day through an intravenous drip. A scan was taken and activated stem cells are clearly present in the brain on slide 15.
Below is a close up of slide 15. The yellow-orange color represents tagged stem cells that have homed on the area of the brain dysfunction.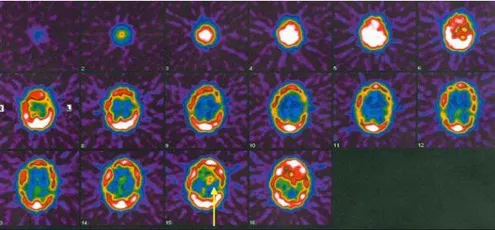 To see how a family member or someone you know might qualify to receive an infusion of their own stem cells, simply complete the free phone consultation request form at the bottom of the page and one of our team member's will contact you shortly. You may also contact us by clicking here .