What our patients are saying. . .
GREAT IMPROVEMENT SIX WEEKS AFTER GETTING HIS OWN STEM CELLS
We just wanted to give you an update. After seeing 3 doctors for routine check ups (lung, heart and chiropractor ) in the last 2 weeks, two out of three remarked how well he looked...circulation. Friday, he went to Rehab, after a 20 minute routine on the treadmill, with oxygen, his level was 94. He moved over to the bicycle, without oxygen, his level was 95, and then sat down for a few minutes, his level was 99. He has never not used oxygen while at Rehab, and the nurses wanted to know what he has been doing. Today he used the weed eater for the first time in over a year!! Yes, we are seeing progress!! His rheumatoid arthritis has also gotten much better, too.
- Richard M., Age 71, COPD for over ten years
Good News For COPD Sufferers—Your Own Stem Cells Can Improve Your Life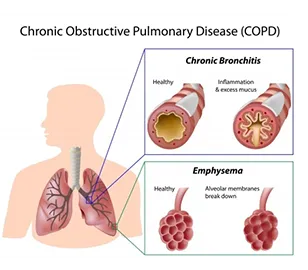 COPD, or chronic obstructive pulmonary disease, is a progressive disease that makes it hard to breathe. As symptoms worsen, COPD can limit your ability to do routine activities, like walking, cooking and taking care of yourself. Currently, COPD is the 4th leading cause of death in the United States. The disease kills more than 120,000 Americans each year—that's 1 death every 4 minutes—and causes serious, long-term disability.
Living with COPD is stressful. Having difficulty breathing and struggling to do normal activities can be very frustrating. Fortunately, the answer to improving your quality of life resides within your own body. Cutting-edge therapy using adult stem cells found in bone marrow and adipose tissue can provide remarkable improvement in the well-being of many people with COPD.
How Adult Stem Cells can Safely Improve the Quality of Life in Persons With COPD
Adult stem cells and their related growth factors reduce inflammation and promote healing and regeneration of damaged tissue. In the case of COPD, an infusion of a person's own adult stem cells may provide positive effects such as:
Better breathing ability
Decreased shortness of breath
Increase in energy level
Halting of disease progression
Improved ability to do exercise and other activities
Improvement in psychological well being
Overall improvement in quality of life
Adult Stem Cells Bring "Unprecedented Change"
Researchers who used bone marrow derived stem cells to treat patients with advanced COPD who had difficulty breathing, found:
The 12-month follow-up showed a significant improvement in the quality of life, as well as a stable clinical condition, which suggest a change in the natural process of the disease. … it is possible to infer that BMMC cell therapy introduces an unprecedented change in the course or in the natural history of emphysema, inhibiting or slowing the progression of disease. " Unicentric study of cell therapy in chronic obstructive pulmonary disease/pulmonary emphysema ." International Journal Chron Obstruct Pulmon Dis. 2011; 6: 63–71.
Pictures Show How Adipose Stem Cells Go Directly to Inflamed Lungs
Adipose tissue contains a vast quantity of what are called mesenchymal stem cells. These cells have extraordinary healing properties, can reduce inflammation, grow new blood vessels, heal and regenerate damaged tissue. The following photos show how adipose stem cells settle in the lungs after being returned to the patient by IV:
Case Study: Lung Disease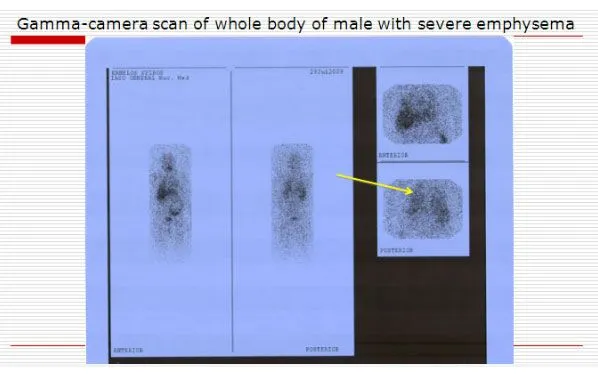 When activated stem cells were administered via IV drip into the left arm, the stem cells went directly to the site of the inflammation in the lungs. Scan was taken 24 hours after stem cells were activated and radio tagged.
Obtaining Your Own Stem Cells is a Simple Process
Adult stem cells have a profound ability to heal and restore damaged tissue. However, until they are extracted and re-infused into a person's body, the cells generally remain locked inside the bone marrow and adipose tissue and unable to perform the powerful healing of which they are capable. The procedures to extract the cells are simple and performed using IV anesthesia, so they are painless. A syringe is used to extract a small quantity of bone marrow from the hip. In the case of adipose tissue, a small quantity of fat is gently removed with a syringe via a mini-liposuction by an expert plastic surgeon. The stem cells are then processed and infused by IV the same day, in the same facility, on an outpatient basis.
Idiopathic Pulmonary Fibrosis
Adipose tissue represents an abundant, safe, ethically uncontested and potentially beneficial source of stem cells for patients with Idiopathic Pulmonary Fibrosis (IPF).
Stem Cells Safe for Idiopathic Pulmonary Fibrosis
Clinical Trial Result: AdiStem Autologous Stem Cell Therapy for Patients with Idiopathic Pulmonary Fibrosis
Idiopathic Pulmonary Fibrosis (IPF) is a devastating, chronic lung disorder with complex and yet unknown disease biology for which there has been no treatment. A phase 1b, non-randomized, no placebo-controlled clinical trial using adipose derived adult stem cells was conducted on 14 patients between June, 2010 and September, 2011 at the Department of Pneumonology, Medical School, Democritus University of Thrace and University Hospital of Alexandropoulos, Greece with the approval of the Institutional Review Board and local Ethics Committee. Detailed safety monitoring indicated that cell treated patients – did not deteriorate in both functional parameters and quality of life indicators. Activation of the isolated stem cells was through autologous PRP and the use of Adistem's Adilight low level laser irradiation. The result of this study has now been published in the Journal of Translational Medicine.
Our caring staff is happy to speak with you and answer any questions or concerns you might have. Simply complete the free phone consultation request form at the top of the page and one of our caring patient care representatives will contact you shortly. You may also contact us by clicking here .