What our patients are saying. . .

My 56-year-old husband had early stage Alzhiemer's. His memory was fading. His sister, 58, was already incapacitated from this terrible disease. Getting his own stem cells stopped it in its tracks. He is now more normal than ever. I am so grateful to RegenCenter for all they've done. - Marion S.
Anyone who has ever watched a friend or loved one's personality melt away from the terrible effects of this dreaded disease is well aware of its dire prognosis. Victims lose their short and long term memory, become irritable and abusive, unable to take care of themselves, suffer incontinence and eventually wind up in a nursing home, oftentimes drugged into insensibility to keep them quiet.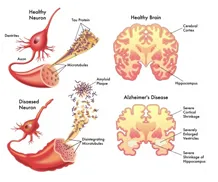 The good news is that, especially in early and moderate stage Alzheimer's, an infusion of one's stem cells may be able to halt the progression of the disease and reverse its symptoms. Advanced cases may still benefit and will be reviewed by our medical specialists.
A study from Korean scientists found that an infusion of autologous stem cells may also help prevent developing the disease in the first place. If you come from a family with a history of Alzheimer's, it would be worthwhile considering an infusion as a preventive. As the saying goes, "An ounce of prevention is worth a pound of cure."
At RegenCenter, our medical specialists can perform a direct infusion of a person's own stem cells through the femoral artery in the groin up into the brain. This provides maximum delivery of the cells where they are needed most.
One of our patients, a 56-year-old executive who was experiencing the telltale symptoms of early onset Alzheimer's evidencing forgetfulness and repeating things he had just said. A physician diagnosed him early onset Alzheimer's. His sister, then only 58, was already incapacitated by the disease. Within a few months after the infusion, his memory and behavior became completely normal and he showed no evidence of the disease whatsoever. His wife is extremely grateful for the dramatic improvements.
While we cannot promise or guarantee such results with every patient, the course of the disease is so devastating that trying an infusion of one's own stem cells is certainly something to consider.
Caregivers need not worry about their loved one not being cooperative or acting out at the hospital. Our medical and nursing staff are kind, caring and have abundant experience in handling the most difficult of cases in a loving and effective manner.
To see how a family member or someone you know might qualify to receive an infusion of their own stem cells, simply complete the free phone consultation request form at the bottom of the page and one of our team member's will contact you shortly. You may also contact us by clicking here .